It is safe to say that we are all superstitious to an extent. From Rafael Nadal picking his underpants out of his…well, out of his ass, to Heidi Klum carrying her baby-teeth with her at all times, people do weird stuff to be lucky. I, myself, avoid even numbers, never walk under ladders and always get up in the morning with my right foot stepping first onto the floor… Yes, I am a very burdened young person and I'm difficult to be around. Don't judge, that's so 2010.
Ahhh, I remember my wedding day morning like it was yesterday… Looking three times in the mirror while washing my face, looking in the right corner first when entering ANY room, my mother in law running after me cuz I don't want to carry a freaking bulge eyed arachnid on my dress… Those were the days. Now lemme give you a piece of advice ladies, don't let your grandmas, aunts and moms rule your wedding day. You do you, cuz they did them long time ago. If they loved wearing spiders and sugar cubes on their wedding day, good for them. But this is your day, and if you love peonies – you wear peonies.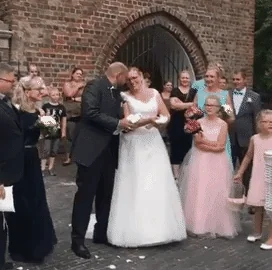 Sure, there are some undoubtedly sweet folklore superstitions that you will want to keep, like "something borrowed, something blue" and all that jazz, but you don't want to let that govern your wedding day. Besides, most of those superstitions have very creepy origins. I don't know about you, but I'm NOT walking on fresh animal skins for good luck. I am saying that as a burger-eating, bacon-munching non-vegan. Fresh skins on the floor won't change your luck ladies. Stick to Persian rugs and Turkish kilims if you want the floors covered. In all seriousness, most of the traditions we use today are charming in comparison to old ones. For example, in Tudor times it was quite common for grooms and brides to be showered with old shoes. Luckily, today we just tie some shoes to the bumpers of our wedding cars, or it could get messy. I mean, if your old croc ended up hitting me in the face in all that commotion, I would still manage to find you and shove it down your throat. Just sayin'. People back then must have been popping Xanax like crazy before their weddings, cuz I can't imagine the level of inner piece that would compel me to cheerfully walk into the storm of old shoes.
If you thought that the flying shoes thing is the worst one, you are up for a surprise. Our ancestors were some creepy people you guys. And when I say "creepy", I mean Shane-Dawson-around-his-cats level of creepy. Here are a few superstitions to properly illustrate the grim atmosphere that used to surround the wedding ceremony: rain on a wedding day foretold that the groom would be the first to die; snow meant that the bride would be widowed; whoever sat at the reception table first would be the first to die, etc. Basically, people back in the day would get married while thinking about death constantly. I mean, no wonder that mental asylums were a big deal at the time…Can you imagine everyone trying to sit down in perfect synchrony, so that no one croaks? On the same note, couples never celebrated their 20th anniversary, because it was believed that both wife and husband would die within one year. Now 20th anniversaries are all about funny toasts, drunken parties and fanfares, but back then no one even dared mention it.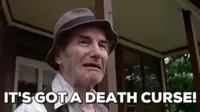 One of the common superstitions is that you shouldn't get married on Friday the 13th. This derived from the belief that Friday the 13th means bad luck in general, which might actually make sense if you are Catholic. According to Catholics, the crucifixion of Jesus Christ happened on a Friday the 13th. Another belief says that on Friday 13 October 1307, hundreds of Knights Templar were captured and burnt all over France. However, if you are not superstitious and you are still looking for an unbooked venue, you will probably find one on Friday the 13th, as most couples are hesitant to book this particular date. Taylor Swift probably will tho, as it is her lucky number and date. I, myself, am a huge Jason Voorhees fan, but I still wouldn't book this date. I mean, it's best not to tempt fate. On the same note, Tupac died on Friday the 13th, and that is one of the things we do know for sure.
See? That Friday the 13th thing makes some sense now that you know something about its origin, right? However, some superstitions just don't make any sense at all. Like not wearing pearls because they look like tears. C'mon grandma, what the…?! Apparently, pearls represent the tears you will shed during the marriage. Needless to say, this is complete rubbish. Pearls are always awesome. Especially when you need some extra cash for Harry Styles concert. Just sayin'…. There is also that nonsense about not marrying in May. The famous phrase "Marry in May, Rue the Day" was invented in Ancient Rome, where it was considered bad luck to get married during the mating season. Dude, it's 2019. Every season is mating season if you're lucky.
In the end, we have to mention one superstition we should all keep – not baking your own wedding cake. Apparently, baking your own wedding cake would bring you bad luck. Just hire your local baker to do it and chill. Avoid as much fuss as you possibly can. The same goes for all of the said superstitions. Do what will give you peace and make you feel at ease on you wedding day. It's as simple as that.